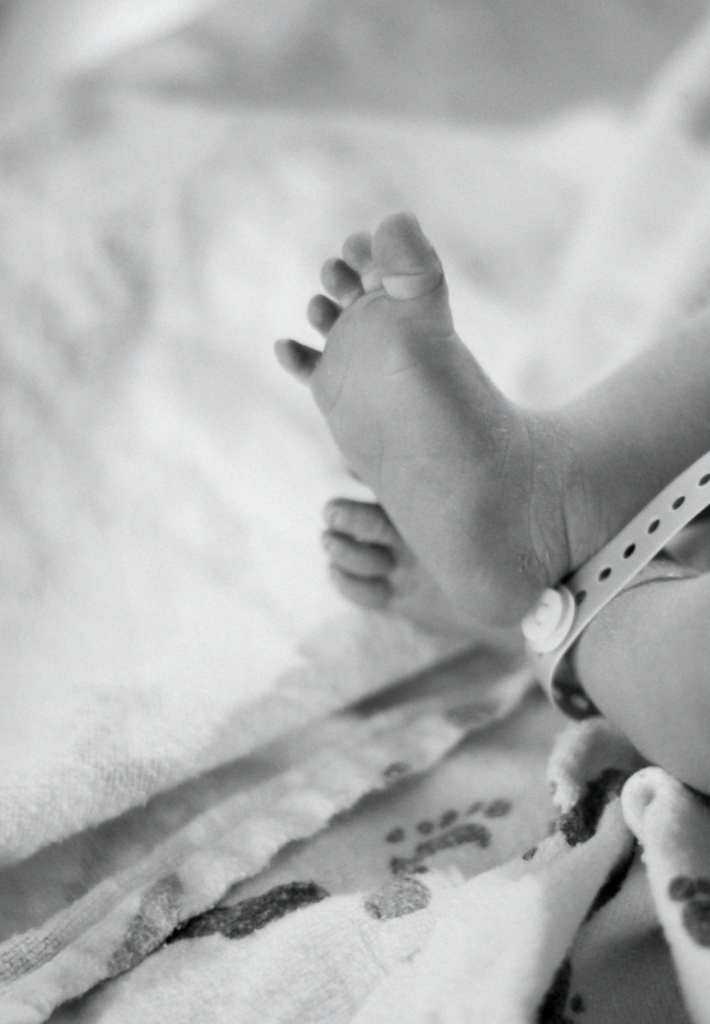 I'm so excited to be linking arms with my dear friend, Lauren, who is a certified doula (and was at my most recent birth just two weeks ago), to do a mini series on preparing for postpartum. She and I have a mutual desire to come alongside women walking through pregnancy and the postpartum season, so we decided to join forces to encourage those mamas out there who are anticipating or are in the midst of adjusting to a new babe and all that comes along with that. 
We'll be sharing a mini series of postpartum preparation and encouragement over the next several weeks. Lauren's posts will focus primarily on the practical preparation, and mine will focus mostly on the heart preparation. You can read Lauren's posts HERE.
---
I'm sure I'm not the only one who's said, "I wish I'd been more prepared for postpartum." In fact, I know I'm not the only one, because I've had quite a handful of conversations about this very topic with other mamas.
There is so much information and preparation that we glean for pregnancy, labor, and birth, but for some reason preparing for postpartum can often be an afterthought; more of a "we'll have the baby and live happily ever after" approach. But in reality, this is just the beginning of an equally intense new life season. It's not only a transition because we have a new little one to care for, but our own body is going through major recovery, adjustment, and adaptation in the midst of it (usually with very little sleep). This can make for an earth-shaking combination when we're not well-equipped beforehand.
I'm now in the midst of my fifth postpartum season, reminded yet again of just how important both the practical and "heart" preparation are to walk through this transition with grace.
I think about this heart preparation into three main spheres: Spiritual, Emotional, and Mental.
This week I'll hone in on the spiritual preparation.
Spiritual preparation
I wholeheartedly believe the best way to be prepared both emotionally and mentally for the postpartum season is having a firm grounding in the Lord. There are a whole host of changes going on inside us that we have very little (or zero) control over, and it's in these times we can rely fully on the grace that is given to us, no matter what our bodies are being put through.
My life verse is Isaiah 26:3-4
"You keep him in perfect peace whose mind is stayed on you, because he trusts in you;
Trust in the LORD forever, for the LORD God is an everlasting rock."
These are verses that ring true in any phase of life, but they are perfectly fitting for the postpartum weeks. When our minds are stayed on Christ, our hearts will be filled with peace in the midst of long nights, nursing struggles, body changes, sore everything, and weepy eyes.
These are three ways I've found to be so helpful in shoring up my mind and heart with truth as I anticipate and walk through the "fourth trimester," as some call it.
1. Meditate on Scripture
Picking out verses or key truths from the Bible to mull over again and again is a lifeline in this season of ups and downs. It doesn't necessarily need to look like memorizing a long passage. Sometimes just one phrase that can aid in returning our gaze again and again to our faithful Savior.
The verse that's been in my mind continuously leading up to my current postpartum session is Colossians 3:15,
"Let the peace of Christ rule in your hearts, to which indeed you were called in one body. And be thankful."
Ask the Lord to highlight what truth(s) about Himself He wants you to cling to in your own postpartum time. Then hide it in your heart and bring it continually to your mind and lips.
2. Make a Worship Playlist
I always make a playlist to listen to during labor. I pick these songs out in the weeks leading up to the birth, choosing ones that will draw my heart back to the Lord and remind me of who He is. I often end up listening to these in the days following the birth of my baby, because the truths that fill the worship songs are just as applicable after the baby arrives as during the process of bringing them into the world. It's a lot harder to spend uninterrupted time reading the Bible (and if we do have it, it's not so easy to concentrate when you've spent all night feeding and comforting a baby), so having others speak (or sing) biblical truths for you to dwell on is a gift to take advantage of.
Consider making a playlist full of worship songs that will encourage you in the midst of your postpartum season. Pick songs that are full of Scripture (Shane and Shane's Psalms Vol. 2 album is one of my favorites for that reason). Then intentionally listen to the lyrics. Pour out your heart to Him. Worship Him and give thanks. Allow Him to minister to your heart as you bask in the greatness of who He is.
3. pray about everything
In my current postpartum season I've gained a whole new appreciation for the power and privilege of prayer. Most of the first week of my tiny son's life was spent holding him while hooked to wires, an IV and feeding tube. So there was much time (and little else I could do but) to pray. This brought such comfort and peace in the midst of a rocky beginning to my fifth round of postpartum. We also watched the Lord answer again and again, experiencing His love and nearness in a precious way. What an immense gift to be able to draw near to the God of the universe, communing with Him, petitioning Him, and praising Him.
God desires us to bring everything to His throne room of grace in our time of need (Heb. 4:16). There is nothing too big or too small to talk to Him about or invite Him to be a part of. He cares about your sleepless nights. He cares about your hard emotions. He cares about the insecurity over body changes. He cares about your baby's tummy troubles; He wants you to entrust every bit of it into His Almighty hands. He delights to hear and answer our prayers prayed in childlike faith.
Start to make prayer your first turn. Are you worried about whether your child is eating enough? Pray. Do you feel too weary to function? Tell God about it. Are you feeling overwhelmed by your changing hormones? Bring it to Him. Let Him be your Comforter, your Healer, and your Wisdom-Giver. Trust that when you call upon Him, He will answer. It may not be in the way you expected or when you expected the answer, but keep your eyes open for what He will do, and how He will even use the trials to display His love and power in your life.
---
Finally, surrender to what the Lord has for you to learn in this season of change and weakness. Ask Him to help you rest in Him and gain a deeper trust in His love and guidance. He will not waste one bit of this time as you allow Him to use it for your good and His glory.
Your friend,

If this post was encouraging to you, would you consider sharing it so it can reach more women who would be blessed by it? Many thanks!