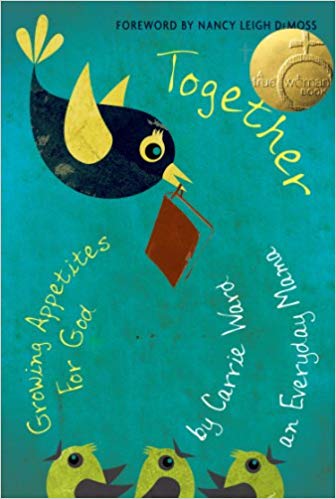 I was given this book by a sweet Revive Our Hearts ambassador a little over a year ago. It sat on my shelf for a couple of months before I picked it up, and when I did could hardly put it down. It struck at something I had already been thinking and praying about for several months: How do I help my kids love God? And the answer she presents is so simple, yet so true: You read the Word with them and allow God to grow that love in them. 

The author shares her own journey of reading the entire Bible with her children over the course of several years, and what she learned along the way. She gives practical ideas for how to help your children engage in what you're reading, and insights into how we should approach tough passages, all the while casting a beautiful vision for how Scripture can grow both you and your children together. She also suggests some other helpful resources as a supplement to reading the Bible. 

This book was written for moms, but could be applicable to anyone who spends time with kiddos, or those who are preparing for motherhood. It's well worth the read!

Click here to buy the book!

(For more of my favorite books, you can visit my Recommendations page!)

I also had the gift of meeting the author at a conference I attended last fall! Her kids are all in their teenage years and up, so it was special to hear her perspective and a few other insights on the topic of the book now that her children are older.