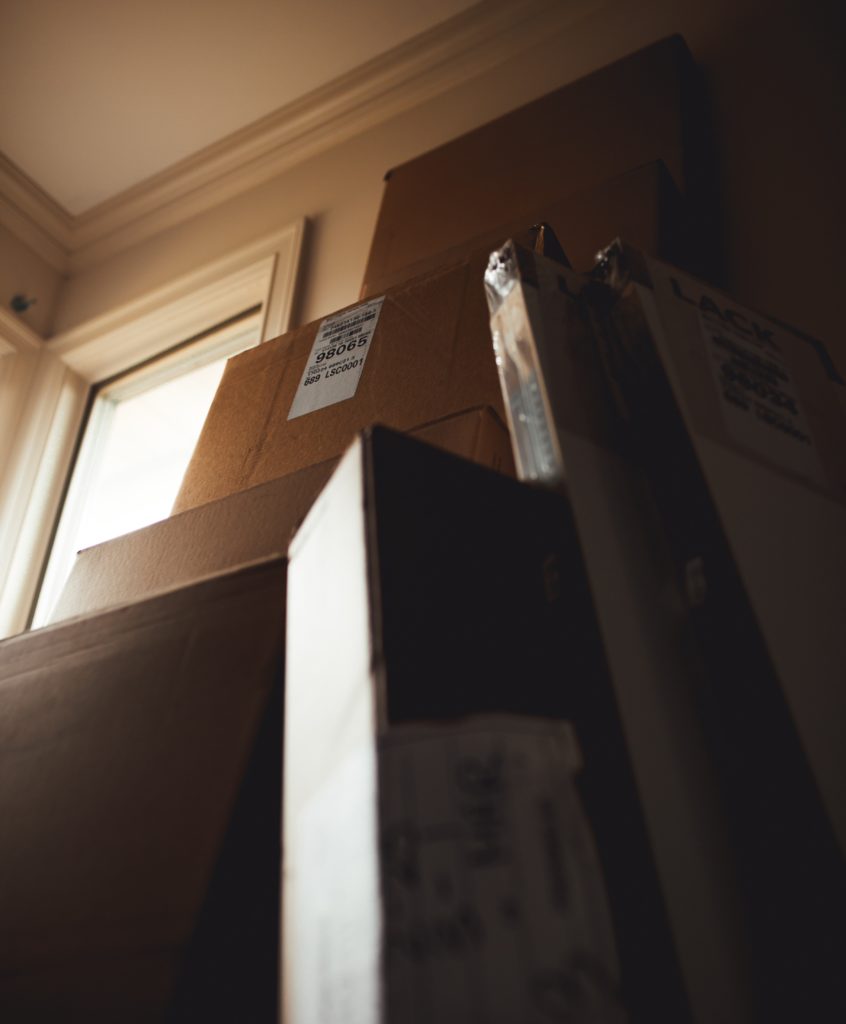 If you had told me in August we would be moving this fall, I would have thought you were crazy. Well… God has a way of doing things that surpasses our own understanding. Because that is exactly what we're doing in exactly one week.

The story behind this new home is one only God could write. In a nutshell: a dear family from our church is moving to another state. They have a beautiful home they've used to show radical, biblical hospitality. Because of our own heart for hospitality, they asked us if we would consider buying it, which we thought would be impossible. But through the long-term, gospel-centric vision God has placed on the hearts of this precious family, He's made a way for us to steward this incredible earthly home. We are blown away by God's faithfulness in giving us this place to care for, and we pray it will continue to be used to show God's love to many in the years to come. And! God provided buyers for our home on the same day this all started coming together. The contracts on both homes were signed within a few hours of each other, which is just one of many confirmations that the Lord is in every single detail of this move. [Keep an eye on my Instagram for pics in the near future!]

As excited as we are about this home, it's added a very big project to our already full plates, especially between Judah's work travel and me working on the details of getting my book published. So, as you might imagine, there has been huge bait for stress and anxiety. I've felt the physical, mental, and emotional strain of the season in many ways. But there are some grounding points that have been so helpful for me, calming my anxious, whirring thoughts and directing my vision back to Jesus over and over again. And I hope these will be an encouragement to you, too. 

1. God Equips you when (and where) he calls you
When God asks something of us, no matter how impossible it may seem, He is the one who will give us the grace to do it. This is the beauty and power of the Gospel! My husband preached a message last Sunday about the work of the Holy Spirit based in John 14, and his main point was this: God lives inside of you. He said it many times, asking us to just let that sink in. It's astounding. We've not been left to our own devices. We don't have to try to figure out this life of obedience on our own. The Holy Spirit is living inside of us to enable us to do what is otherwise impossible. All we need to do is trust Him and obey Him when He says, "go," and He takes care of the rest. 
2. Peace is found in God alone
We're told by the world that peace is lots of different things and comes from lots of different places: financial security, good health, having stuff (or less stuff), going to yoga classes, and a hundred other things. But all of those give counterfeit peace. The feelings only last as long as those circumstances remain the same. But we all know that doesn't last for long. The incredible thing about God's peace is that it isn't based on circumstances: it's based in an all-powerful, unchanging God of love. So, no matter how busy we are, what we are walking through, or what is to come, our souls can find rest in Him. Here are some of my favorite verses to meditate on when I need that reminder (which is… a lot).

"Do not be anxious about anything, but in everything by prayer and supplication with thanksgiving let your requests be made known to God. And the peace of God, which surpasses all understanding, will guard your hearts and your minds in Christ Jesus."
Philippians 4:6-7
"You keep him in perfect peace whose mind is stayed on you, because he trusts in you. Trust in the LORD forever, for the LORD GOD is an everlasting rock."
Isaiah 26:3-4
"Come to me, all who labor and are heavy laden, and I will give you rest."
Matthew 11:28
3. My first duty is to delight in God
I'm pulling a lot in this post from Judah's Sunday sermon, which was just so good. Another thing he touched on is that we can get so caught up in obeying God that we forget to delight in Him. He said, "Loving God and obeying God are not the same thing. True obedience is an outflow of love; our first and primary duty is simply to delight in God." 
This is where it all starts: loving God. Sitting at His feet. Delighting in who He is. Marveling at His faithfulness and goodness. Praising Him for the countless ways He has shown His love to us. When this is the focus, the rest falls into place.

One of my favorite choruses to any song is this:

Turn your eyes upon Jesus
Look full in His wonderful face
And the things of earth will grow strangely dim
In the light of His glory and grace
When Jesus is our delight, the cares and tasks of this life fall into perspective. We lay our Martha tendencies aside and put on the attitude of Mary, who sat at His feet… who just wanted to be near Him and soak up every single word. Who wanted to know Jesus before trying to do a bunch of things for Him.

Jesus is after a relationship with us. He wants to minister to our souls through intimacy with Him. He wants to satisfy us in His very presence. He wants to relieve our burdens and give us rest… because He is the only one who can. And He can do it very, very well.
So, as we go about our lives, doing what God has given us to do, let's look to Him. Let's love Him first and then obey Him, remembering that nothing we do earns His love or approval. Let's remember that He has given us what we need through His Spirit to do what He calls us to do. And that when our souls are satisfied in Him, there is unexplainable, unshakeable soul rest to be found.

Well, I'm off to pack some more boxes!
Blessings, friend,